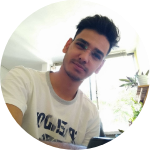 Thank you for visiting my site. My name is Majid Rigizadeh and on this site I tried to give a brief description of the examples of work done.

Android Java
almost 5 years experience in programming Java language applications and I have made about 10 applications

Laravel
About 3 years of using this framework to create management panels and APIs of the projects

Flutter
Due to market needs and to challenge myself, I started this framework 2 years ago. I made 4 successful projects
Timeline of my experiences
2020 - 2019
Secretary of Computer Science Association
In Birjand University, Android and WordPress teaching and training class
2020 - 2018
Bachelor Degree
from Birjand University, majoring in software engineering with GPA 18.60
2018 - 2016
Associate degree
from Technical College of Enghelab Tehran, majoring in software with GPA 17.9
2016 - 2014
Diploma
from Imam Sajjad school of Boshrouye city, majoring in computer with GPA 16.59
May 2021 - now
FullStack (Mobile,Laravel,Analyzer)
as a freelancer (ternav.ir programming team)
June 2020 - April 2021
FullStack (Mobile,Laravel,Analyzer)
in Farabin Ertebatat Rayan Company located in Mashhad (contract termination and non-renewal)
September 2019 - May 2020
FullStack (Mobile,Laravel)
as a freelancer
December 2017 - September 2019
Android Developer
at Moj Media company located in Tehran (no contract extension due to entering Birjand University)
(All these work samples are implemented either as a single person coding or in teams with 2 or 3 people, where the main project management or coding was with me)
Recommended
متوسط
محصولات نامحدود شامل همه برنامه ها و ویژگی های بیشتر
پشتیبانی در روزهای کاری
تومان49000در ماه
شروع کنید
پیشرفته
گزینه ای عاقلانه برای شرکت ها و افراد بزرگ است
پشتیبانی همیشگی
تومان99000بدون انقضا
شروع کنید

Mr. Majid Nazari
Car spare parts store application
Working with this team was a good experience. Very good work, delivering the work earlier than the specified date and patiently making the changes.
Mr. Shahin
Application for sharing cooking recipes
Mastering the profession and being responsive as soon as possible, hoping to cooperate again
Ponisha Customer
Persianization of WordPress store application
The Ternav team is very professional and expert, and working with this team brought me a great and satisfying experience, the Ternav team developed my project very quickly and professionally and much, much better than I expected, and with The excellent support and care they had accompanied me, I will definitely work with this team in similar projects